During the March and August 2021 rush, you could almost sell any NFTs. Even until early 2022, selling NFTs was much easier than now, but that period is over; ever since thousands of people have started projects, and standing out among the volume takes more time and effort. NFT market is experiencing a bear market after the latest crypto crash in May 2022; you can see the dwindle in Opensea's daily volume (June 6th, 2022) in the chart below.

 When you put the bear NFT market situation stemmed from people's fear of investing in volatile markets due to the recent crash of the cryptos, together with the supply surplus, you probably would figure out how difficult it has become to sell NFTs. But there are still some projects that were sold out even in this bear market. So what should your approach be in this market as a person who wants to start their NFT project?
 Do a lot of research.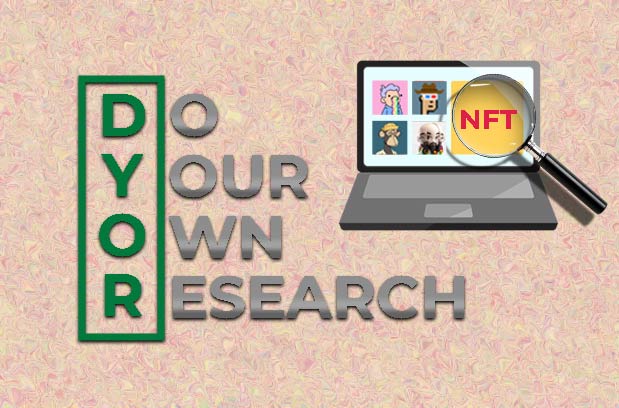 We often tend to see a few successes and not tons of failures. The NFT market is changing rapidly. No one can exactly predict where it will end up going. So if you're feeling the rush to jump into the market before understanding it thoroughly, sit back and watch how others are doing. You can learn a lot. You must research other projects and the market as a whole thoroughly before starting your project. Check what others have done in terms of the art, utility, community, marketing, influencers, etc.
Have a clear goal in mind.
Have long-term and short-term plans; a map to keep you focused on what matters. It will help a lot in the decision-making process. Simply ask yourself which way will lead you toward your goal. These goals will also keep you motivated through tough times. You need a detailed plan of the steps that will lead you toward your goal. Don't share your long-term plans with your audience in the beginning: I am going to launch a P2E game on the blockchain, We will develop a DAO with our token to create an investing system, or we will create the best metaverse of all time, to name but a few. Lots of projects claimed to do the abovementioned, but just a handful have succeeded. Share the info of every step as you move forward toward your main goal and have a detailed marketing plan to keep the hype in the meantime.
Have a long-term mindset
For selling NFTs, like anything, you need to build a business, awareness, following, etc., which takes time. If you put your expectations too high, you'll lose motivation.
You may ask: lots of projects have been able to sell fast. But consider two things: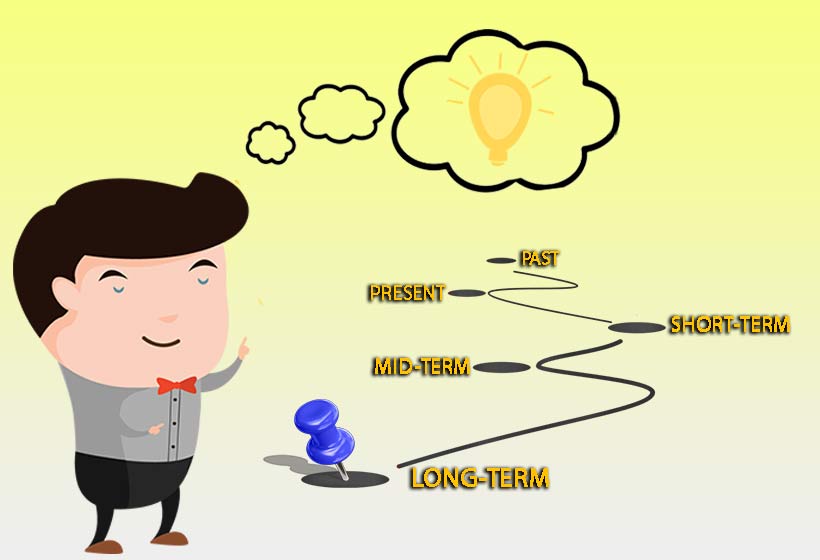 I. Most of them were built by experienced teams. They already were highly experienced in business and marketing
II. Many others were just in the right place at the right time, which as mentioned above is very difficult now.
An NFT project is not just selling out the collection. your main job starts after selling the collection. What is the next step and when it's going to happen? what is the utility of your project? How you would keep the value of your project? The buyers will start asking these questions after the mint. So you should prepare the answers and have a plan to execute your ideas. Define every step and estimate a time frame for it. 
Marketing Basics of the NFT market
Marketing is everything if you want to sell your project. Remember the marketing plan in this space is the same as in other markets: sell without selling. 
Marketers have a general idea of niching down the audience and working on the demographics and psychographics of the chosen niche. But that is not what necessarily works in the NFT space. The NFT market is already niche. There are only over 1 million active users on OpenSea as the biggest marketplace in this space (see here). Thus, do not niche down your audience. Choosing a broader audience can help you, particularly in this bear market. 
The second thing that you should have in mind is that you ought to build fast. There is a major difference between web2 and web 3. In web2 you take your time to build, but web3 is constantly changing. What might be hyped right now may have no hype by the time you launch. So, you need to move quickly. The main drives of selling in this space are hype and momentum. Building fast helps to keep the momentum. 
Building hype is always easier than maintaining it. You will need to trigger people's curiosity: let them ask questions about your project. Remember you don't have to show everything in the beginning. Let your potential customers discuss what they don't know about your project. Keep them thirsty. This will help create and maintain the hype you're after. 
Take a look at goblintown.wtf project. We don't know lots of things about this project: their team, plan, background, etc. But they were able to move the records in a deserted market. The team behind this project is very experienced and they know what they are doing. They had some new ideas for this market and it worked: free minting, no roadmap, no discord. (you can find more info about goblintown here)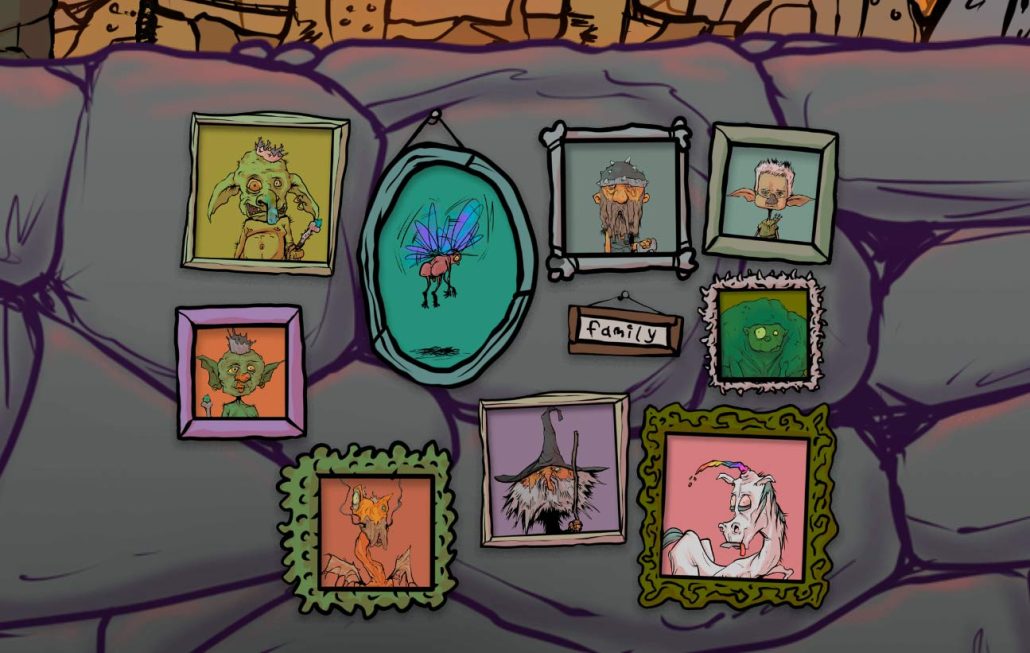 Note if you don't have a marketing background, copy what works. Lacking a marketing background, you can't be sure whether your campaigns or ideas will work, and you will need to put a lot of time and effort to come up with the necessary adjustments to make your ideas work. 
Read Also: Breakthrough popular types of NFTs
The Team
You have to establish a good foundation to gain the capability of building everything fast, so you are going to need a big team. There are four main sections of work in building an NFT project: Art, Marketing, Community, and Development. You have to think about these four sections and look for the people you need. 
 Let's discuss some of the roles you will need in your team. You will need an operations director to handle everything. You can take this role as the founder and the person who has a clear vision of the project in mind. But if you don't have the time or expertise, hire someone who does.
Art
In recent years more artists have pursued their careers in the game and animation industry. NFT market has opened the doors to a new world for them, either by selling their art or collaborating on other projects.
You need an artist in your team not only to design the Art of your project but for designing the logo, social media covers, content, branding, etc. Depending on the size of your project, you can hire one or more people to take care of the art for you. The artist is also in contact with the operations director and other sections.
Remember that the more complex the art you have in mind, the more time and money you have to put into its design. For instance, a hyper-realistic 3D art is gonna cost way more than a doodles style 2D art and it also is gonna take much more time. So you have to choose your project's art style wisely. You may choose an art style because it is hyped in a specific period of time, or you know your audience like a specific art style, etc. Whatever the reason is for choosing an art style, you need to take cost and time into consideration.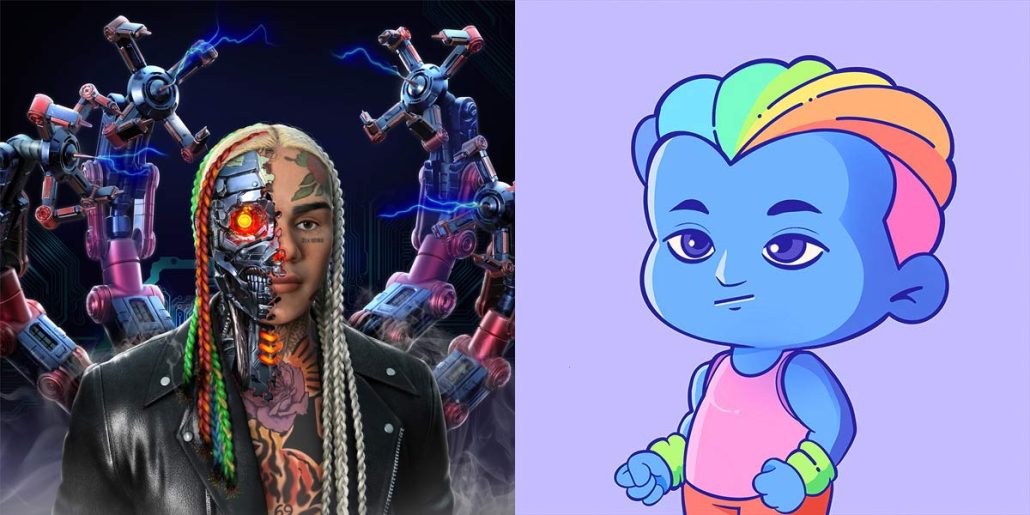 See the NFT design services of Pixune studios.
Marketing
The second part is marketing. On top of this section, you need someone to manage everything. That would be the marketing director or the CMO (Chief Marketing Officer). This person preferably has marketing experience and should run everything related to marketing: marketing calendar, strategies, influencers, etc. Then you need someone to run the social media for you. The social media manager should make sure that the graphics and content are ready on time based on the calendar and execute the strategies in communication with the marketing director. Based on the size of your project you can hire a Copywriter. This person should make sure that every content you put out looks legit and professional. 
Community
The next part we're going to discuss is the Community. First, you'll need a Discord expert, someone who understands the technical side of Discord and sets up a secure and user-friendly server for you. You also will need a community manager, that's someone who will run everything related to the community. Depending on the size of your project or community you can hire someone to assist the community manager with their tasks. The final roles for the community part are the Discord mods. People who'll handle the engagement, support, questions, etc. inside the community. Again depending on the size of the community, you can hire two or more people to handle the moderation part.
Development
The last part is Development. Our first suggestion in this part is that if you don't have technical and development background, hire someone who does. You can hire an advisor who understands the technical side to act as your right-hand man and help you communicate with the developers and make sure they will deliver what you want without errors. The next role is the solidity developer, someone who can develop the smart contract and a minting page on your website, generate the art, etc. The next role is a web developer who will design the website for you. The last two roles can be done by one person based on the skill set of the developer and the size of your project.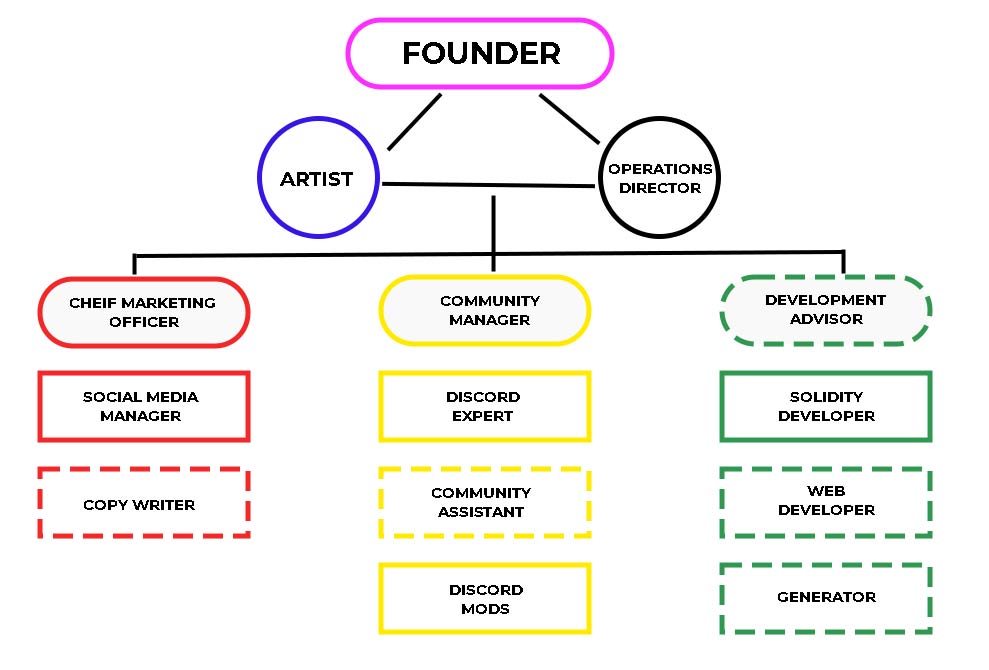 Build a following on Twitter
you need followers to sell NFTs. Otherwise, you'll get frustrated and give up. Also, buyers in the NFT market tend to buy things that they believe they would be able to sell fast. Although smarter buyers know quality takes time, the bulk of the buyers looks for a short-time profit. So you need to keep up the hype to attract more demand.
One of the best ways to do that is by being professionally active on social media, especially on Twitter for this market. Reach out to influencers of the space and try to promote your project or build-up collaborations with them. Reach out to other projects and discuss the possibility of collaborations or partnerships. But big influencers won't answer my messages, how should I contact them you may ask. Don't contact the top influencers if you are at the beginning stages of your project. No one still knows you, so why should an influencer, who has spent years developing their brand and reputation, should trust you? What is in it for him/her? The best way is to start with the small projects and influencers.
As you grow more and more people are going to hear about your project and you can contact bigger influencers and projects with your offer now. Now bigger influencers will accept your collaboration (whitelist spots for instance) offers since they now know about you and they can convey value to their audience. This way you can guarantee a steady growth since working with bigger influencers means more people are gonna know about you. This will activate the avalanche effect of social media and build up the hype you're looking for. 
Don't get disappointed: there will be complaints
if your project doesn't go up in value or has a mint-day tech issue or almost anything that people don't like, you'll most likely get a lot of complaints. Be prepared to experience massive mental stress and know that trying to reason with these people can be tricky. Try to be prepared for unforeseen circumstances at every step. But we all know that nobody can predict everything. Even some of the best and most famous projects in the NFT market have encountered issues in the process. Remember you can't satisfy everyone, just try to focus on your goals and build the ladder that you need to achieve them. Also, you need to see everything through the eyes of your audience, your goals should be in line with your audience. If they benefit from your project, you definitely will benefit too.
In the end, remain humble and keep in mind that there are still tons of things you need to learn. This market is still in its early stages and no one can predict where will it go in the future. The only way to survive the turbulences of this market is to keep building and keep learning and keep giving value to your believers. 
Leave a comment if you believe there is something that we haven't covered in this article.
Related