I am curious to know to what extent you watch animation or if you are familiar with animation production companies. Still, I'm sure that you cannot talk about animations and not mention the greatness and glory of the Walt Disney Company. A company that has effectively educated many children and teenagers worldwide by making unique and powerful works with pure and creative ideas. Disney is one of the biggest entertainment brands in the world. 
This brand has a stunning annual income from the entertainment field, and its customers are more interested in it every day than yesterday. The founder of this company was Walt Elias Disney, an entrepreneur, animator, sound engineer, and cinema producer known as one of the greatest pioneers of the animation industry in the world. Today's successful and passionate world of animation owes a lot to this great entrepreneur. 
If Disney is a clear example of branding and marketing success for you, join us in this article to discuss why is Disney so successful and the path it has taken.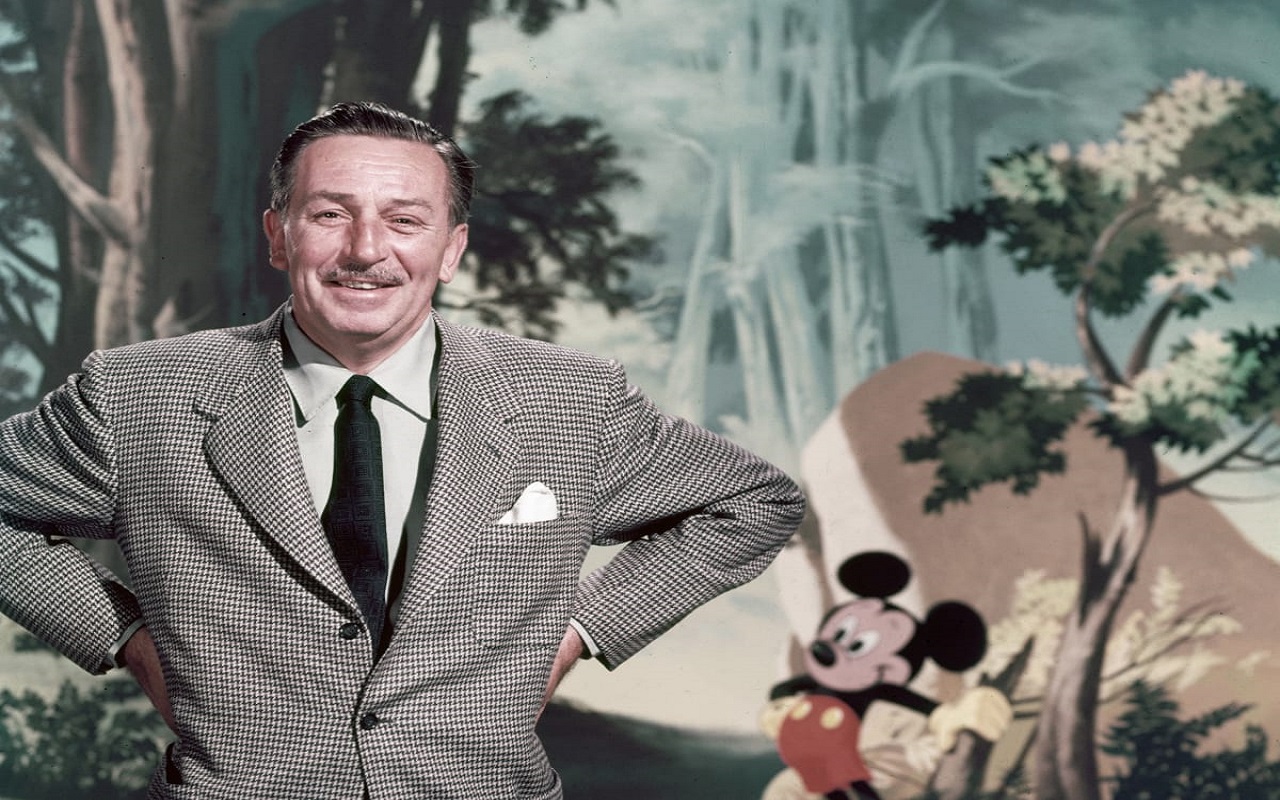 Walt Disney was born in Chicago in 1901. His father, Elias Disney, was an Irish Canadian, and his mother, Flora Kal Disney, was German. The Disney family had four sons and a daughter, and Walt was the second child in the family. The previous three children were named Herbert, Raymond, and Roy. The fifth child was born two years later and was named Ruth. Walt's mother was a teacher, and his father was a peripatetic carpenter and farmer.
They did not have a bad financial situation. Still, when the children were born and the family grew, they were under financial pressure. The pressure caused the father of the family to be cold and violent with his children and pushed them to the point where two of Walt's brothers left the house forever. Working on the farm was exhausting for the remaining children of the family, so they sold the farm and moved to Kansas City in 1911. The city that held Walt's fate and future in its hands.
Walt went to school in Kansas City and, at the same time, became a cartoonist for his school newspaper. He drew patriotic drawings about the First World War for the school newspaper. Walt's father had also run a newsstand in Kansas, and he had to deliver newspapers before sunrise. Work that; Walt didn't get paid for it! So, he decided to do other jobs, such as pharmacy delivery and land clearing to earn money.
Hard work made him sleepy in classes, and he couldn't perform correctly. He was also busy drawing cartoons and reading stories when he was not working. Walt met a friend at school who introduced him to the entertainment world. This world was alien to Walt's father, and he didn't have a good opinion of it. However, one of Walt's few pastimes was sneaking out to the movies with his friend. Unfortunately, the situation at home separated him from his friend.
Due to the father's cold and harsh behaviour, Walt's other brother, Roy, left home at 16, as did his other brothers. This meant more responsibilities on Walt's shoulders. His father's inability to run the newsstand forced them back to Chicago after seven years.
An Artist in the Middle of War and Pandemic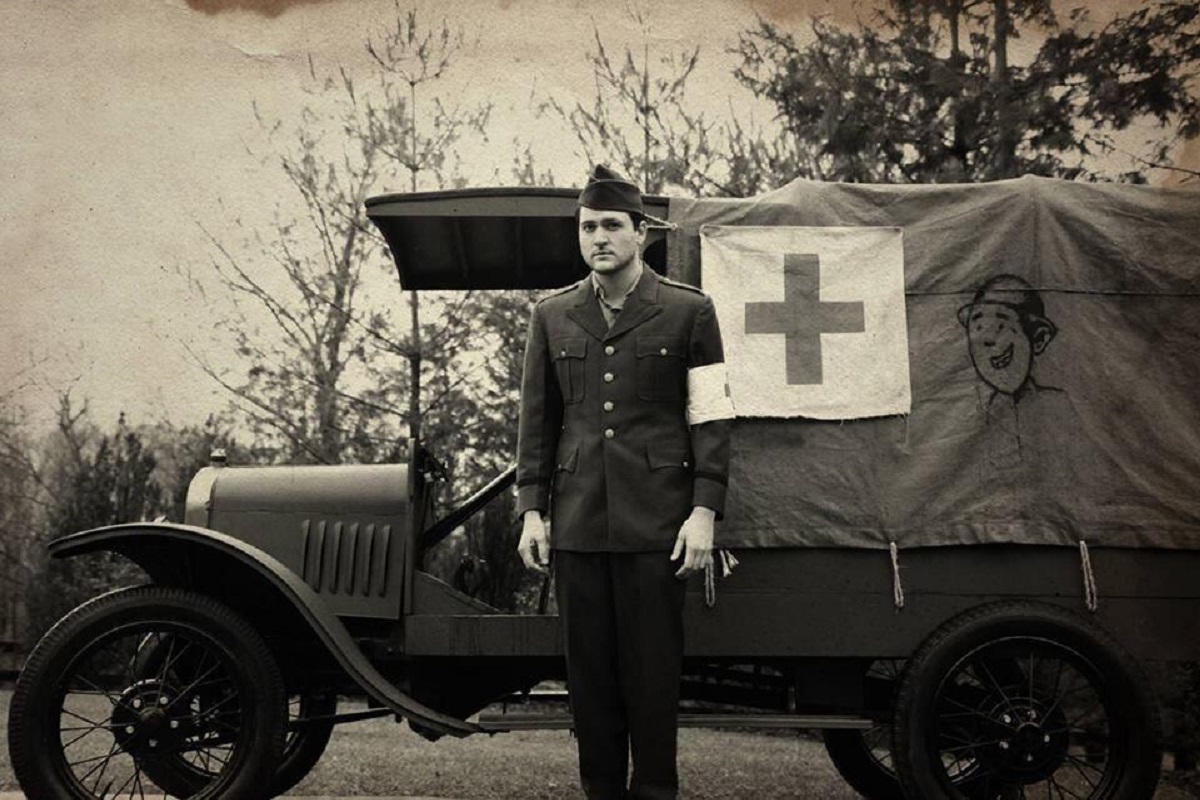 His father set up a jelly factory with his savings and made Walt work for it. Because Walt was interested in art and wanted to take art classes, he made it a condition that he worked at the factory. However, due to his low salary, Walt decided to resign. He also left home at 16 and dropped out of school to go to war.
At first, Walt was not accepted due to his young age, But he forged his birth certificate and joined the Red Cross. He hung his cartoons on the army ambulance to cheer up the soldiers.
In 1918, the Spanish flu spread, and Walt was not immune to it either. Fortunately, he recovered, resumed working for the Red Cross, and was transferred to France.
After the end of the war, Walt returned home and was faced with his father's offer to work in a factory – this time with a decent salary. However, he knew that this was not something he wanted to do for the rest of his life. Therefore, he decided to become an artist despite the unknown future of art.

Walt's brother offered him an internship at an art studio. Walt accepted the offer, and his passion for learning art led him to be taken as an apprentice at an art studio in Kansas City. A work that brought him both bad luck and good luck. They fired Walt Disney, who we know as one of the most creative artists, because of a "lack of creativity." But before this, he met his best friend, who would later become one of his good colleagues: Ub Iwerks.

Walt and Ub had a lot in common. Both were dropouts and bounced from one job to another. As a result of their similarities, they formed a friendship. After the studio fired both of them, they started the Disney-Iwerks company. But despite their motivation and enthusiasm for work, their company failed after one month. What a great misfortune!
The Doors of the Art World Are Opening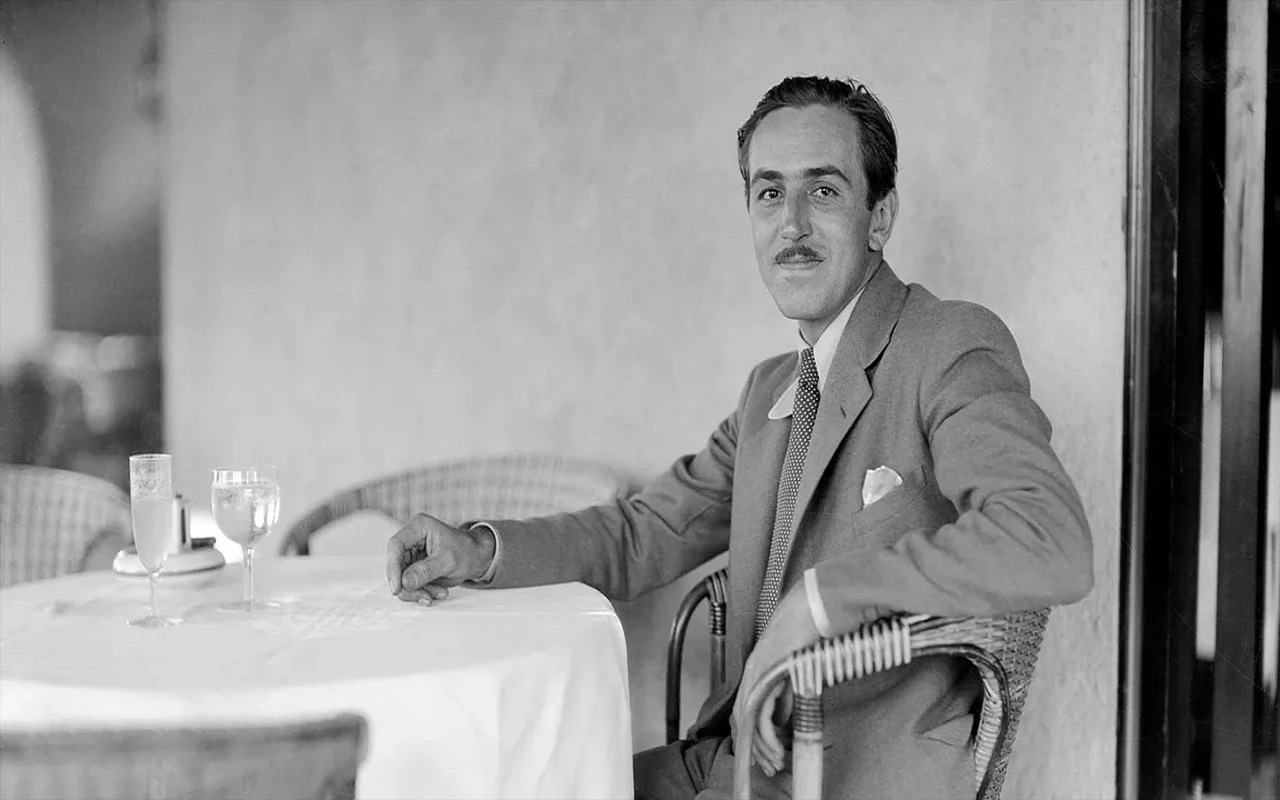 But this failure had a positive result. After the bankruptcy of Disney-Iwerks, Walt received a job offer from a commercial film production company in Kansas City, and Ub joined the company with him. A company that opened new doors from the world of art to Walt.
Walt got acquainted with the category of "animation" in this company. To experiment more with animation, he borrowed a camera from the company. He set up a studio in his garage to create his cartoons. He gained the confidence to show his cartoons to others when he created 300 feet of film (about 92 meters). When Walt finished making 300 feet of film, he showed the results to a director of a production company. The company manager was impressed by Walt's work and agreed to broadcast his cartoons. Walt became increasingly popular, even though he still needed to create his famous cartoons.
In 1922, Walt started his new business Laugh-O-Gram Studio. He decided to produce some cartoons based on old legends and wrote his independent animation called "Alice's Tales." This animation was an adaptation of the book "Alice in Wonderland" with exaggerated characters. But he ran out of money, and his newly founded company "Laugh-O-Gram" went bankrupt.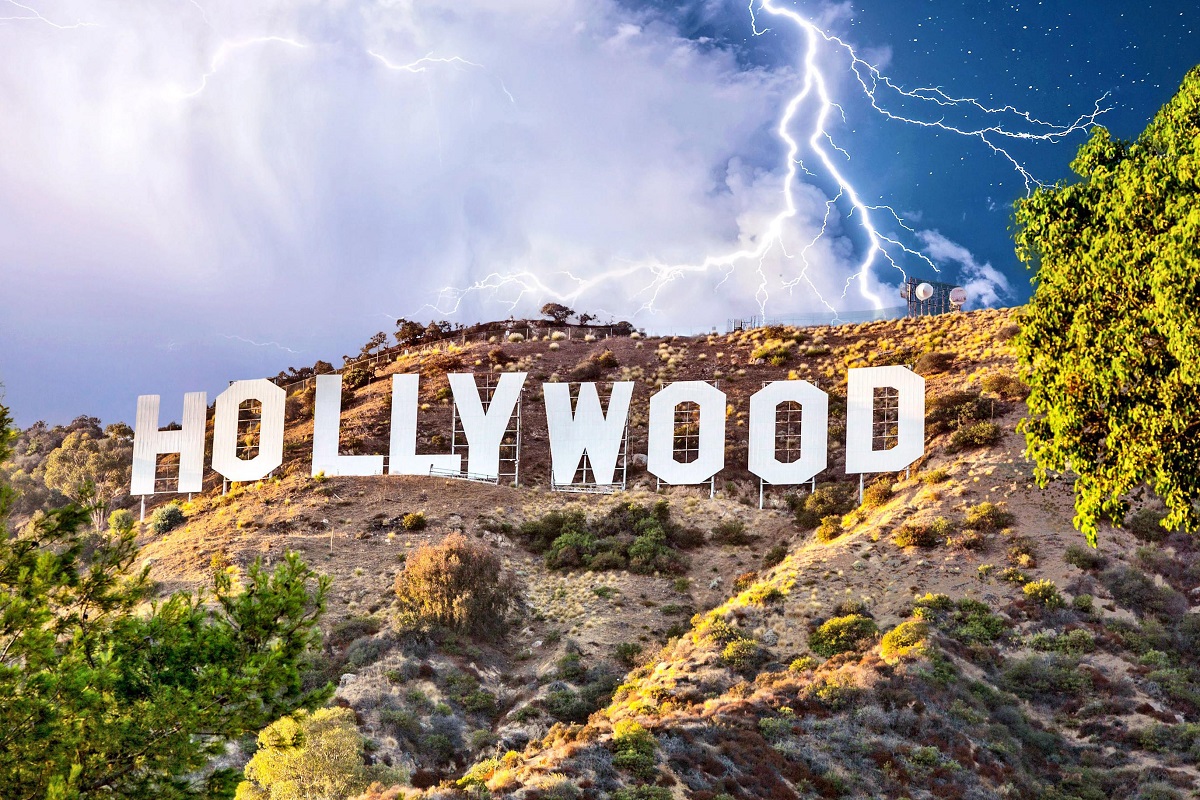 After Walt's company went bankrupt, things got very complicated. He had no place to live; even his only shoes were in a shoemaker's for repair, and he didn't have enough money to get them back. For the first time, Walt doubted whether he should become an artist!
Years ago, he thought he could not become an engineer or a doctor and was sure he would become an artist. But at 21, he doubted his choice for the first time and decided to leave this profession.
Walt sold his camera and, with only $40 in his pocket, went to Hollywood to live with his uncle. He took up the director's career, But all the studios rejected his request. Walt even tried acting, But he did not succeed in that either. Walt's little money also ran out, and he couldn't do anything else.
However, Walt's brother offered him to resume making legendary cartoons. But he was so sceptical of the industry that it took him a while to agree to do it finally. With the help of his brother, he set up a studio in his uncle's garage to start his career. Disney Brothers Studio was launched, where he met his wife and married her in 1925.
With the help of his brother, he produced the cartoon series "Alice's Wonderland" (which combined an actor with cartoon characters). By making this series, Walt was able to attract the attention of a broadcaster from New York named Margaret J. Winkler, Someone who played an essential role in his success.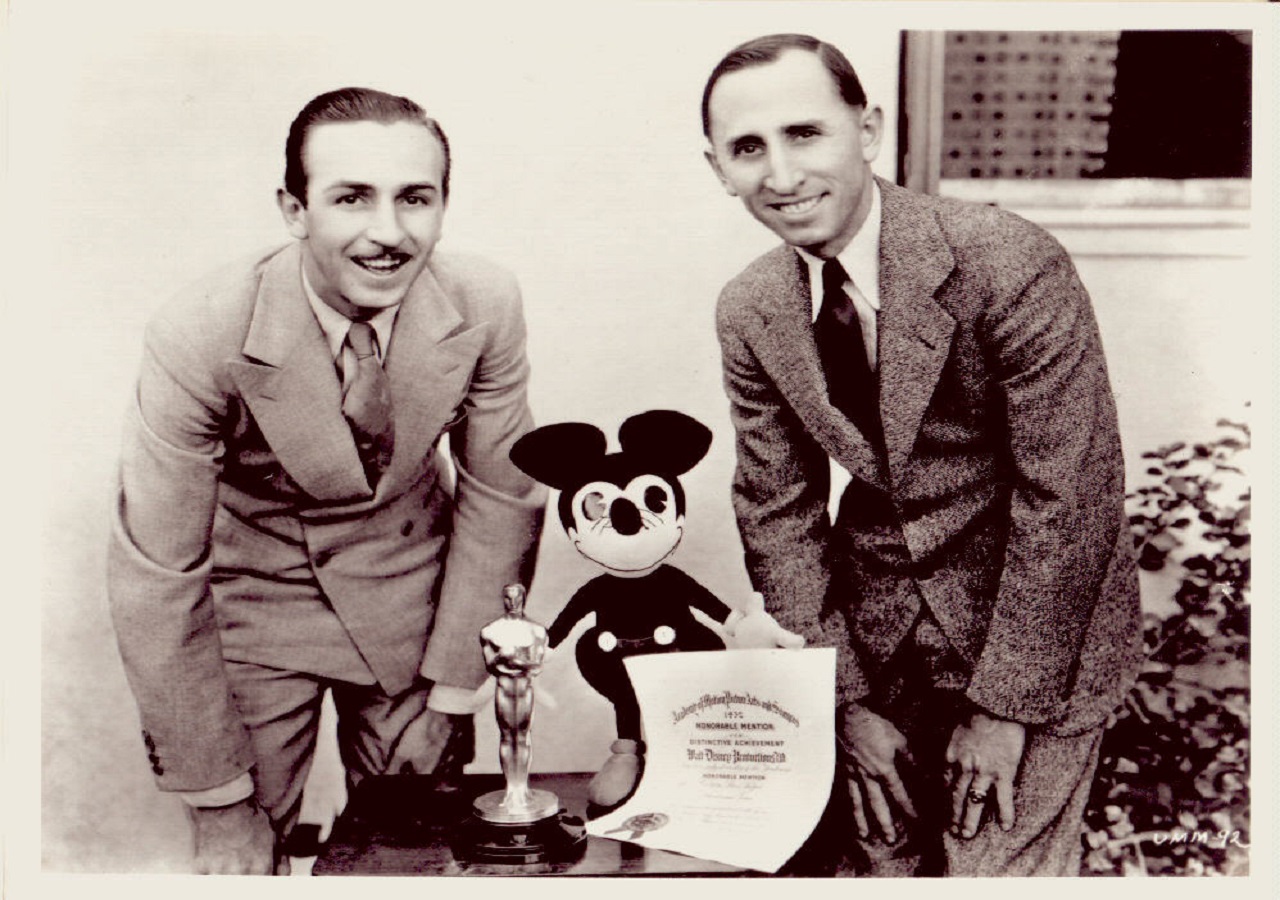 Disney started an excellent path with Winkler, and they entered the professional Hollywood cinema with "Oswald the Lucky Rabbit." Still, the page turned at the end of a 26-part series, and the Disney brothers returned to their zero point. In 1927, to Walt's surprise, the producer betrayed him and stole Walt's animators to work for him. 
A dispute with Mrs Winkler's husband took him to court, and the court ruled against Disney, and the rights to Oswald's character went to Charles Means. He also pressured Walt to work for the company at a meagre salary. "Oswald the Lucky Rabbit" was owned by Universal Pictures, and if Walt didn't accept the offer, he would lose the rights to use it. However, Walt could not bear this situation and left the character created by himself and resigned from the company.
Before returning home, he sent a letter to his brother explaining what had happened. At the end of the letter, he wrote:
"Keep your head up. In the end, we are the ones who will laugh – and this laugh is the best!" After Walt Disney lost the right of Oswald the Lucky Rabbit as well as four of his original team of animators, He decided to make up for the losses in any way possible.
One day while riding a train in California, the idea of designing a new character based on mice came to his mind. He drew initial sketches of the character he wanted and called it Mortimer. Still, since his wife did not like the combination of Mortimer and Mouse, he chose Mickey Mouse. In addition, he upgraded his new product and added a harmonious sound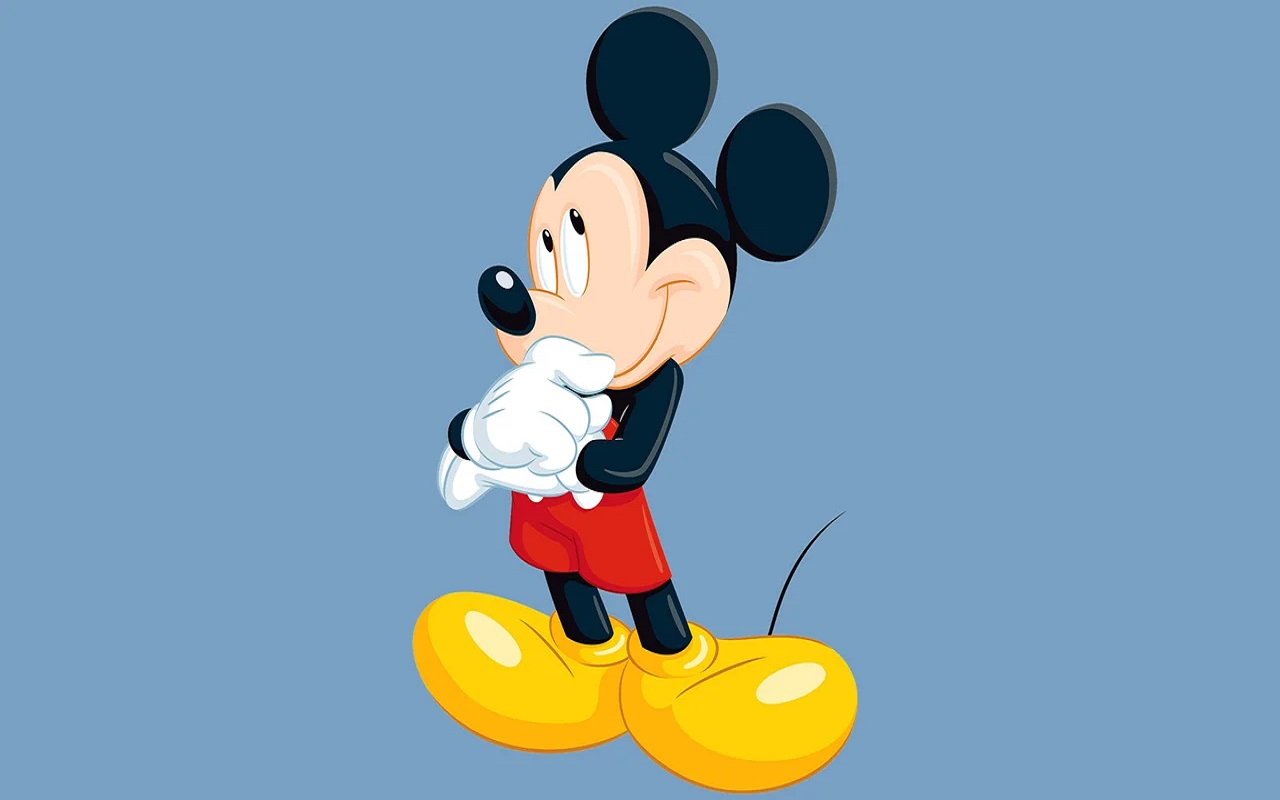 Walt had created the character and had chosen a suitable name for him, But his problems remained. Mickey Mouse needed help finding a Broadcaster because they doubted his success and preferred a character that had already passed the test. So, Walt decides to release his cartoon in theateres. This was a risky decision that he was not sure would work, but he took it anyway. 
The first episode of Mickey Mouse, Steamboat Willie, was a historical success as the first cartoon with music in sync with the picture. This work was the first animated short with sound in history and was very popular at its release.
After the surprising success of Mickey Mouse, Walt received offers from Broadcaster: but these offers had a significant flaw. Broadcasters insisted that they owned the Mickey Mouse character. 
Walt was unwilling to do such a thing because of his bitter experience. At the same time, a person named Pat Powers, the founder of Universal Pictures and the system owner by which Walt had been able to voice the Mickey Mouse cartoon, gave him a better offer. He offered to help Walt broadcast his cartoons if he used Pat Powers' sound system to make his cartoons. Walt accepted the offer. Unaware that this contract did not have a happy ending for him!
A Revolution in the Style of Snow White and the Seven Dwarfs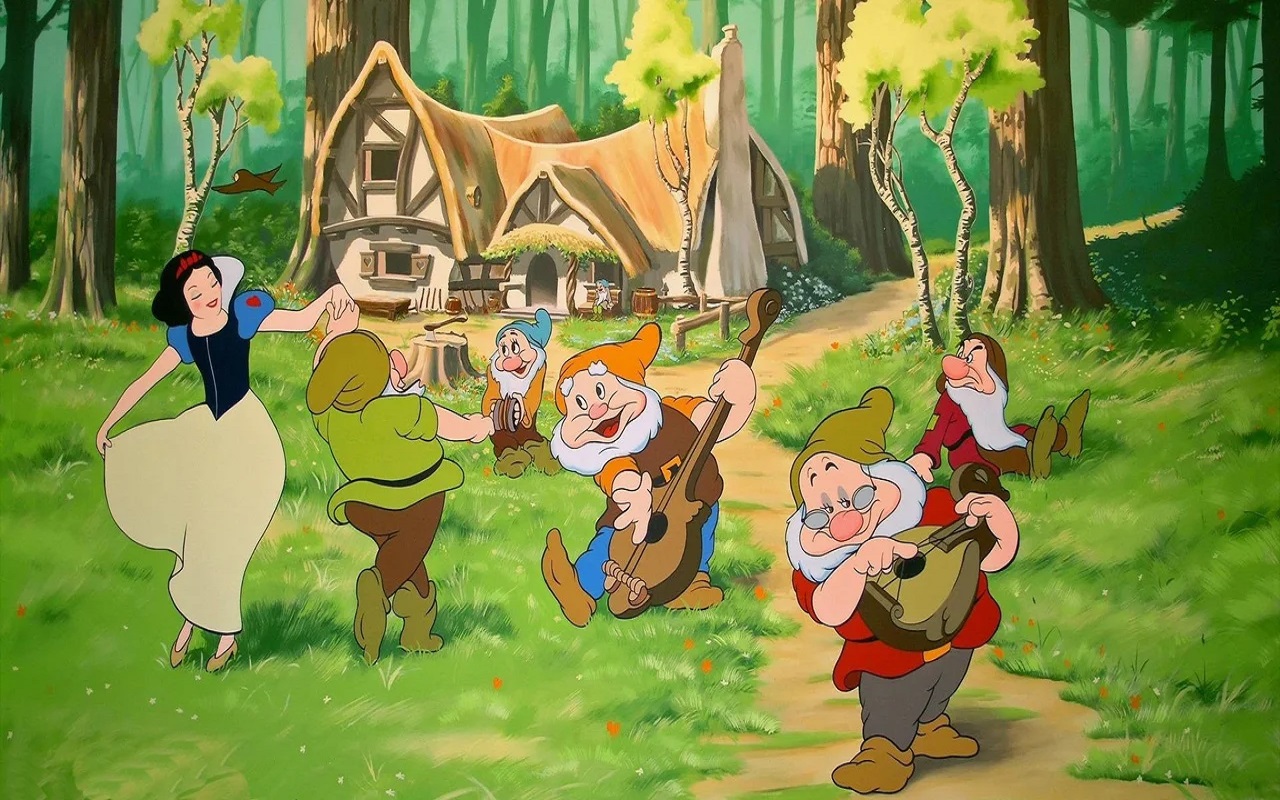 Pat Powers had promised Walt that he would pay him the necessary funds before producing each cartoon. But Powers did not keep his promise. Walt produced Mickey Mouse cartoons under contract. Its success reached the point where Mickey Mouse became a national figure in America. Powers defrauded Walt of hundreds of thousands of dollars. Still, Walt couldn't complain because Powers had so much influence that he threatened to destroy the next company that signed with Walt.
But Walt still had a chance to succeed. Columbia Pictures, with its great power, was able to support Walt and stand against Pat Powers. So Walt signed a contract with this company and decided to update and improve his work again. Unfortunately, during this time, he was losing money and was under a lot of mental pressure. Due to the pressure, he had a nervous breakdown and had to stop working for a while.
He returned to work after his leave, But the problems were still there. Profitability was hard to come by, and Columbia Pictures would not agree to requests for pre-production payments. So, Walt had to find a new broadcaster for his cartoons. A company founded by one of his most prominent role models, Charlie Chaplin. The company that allowed him to revolutionize the cartoon industry.
In this company, Walt could implement his decision to improve his cartoons' quality by adding color to them. Although Walt's colleagues opposed him because of the high cost of this work, Walt believed that the color cartoon would be successful. Therefore, Walt decided to make his first color sound cartoon based on the old fairy tale "Snow White and the Seven Dwarfs." There was a lot of talk behind this work. Many of Walt's colleagues called it "Disney's stupidity." They even suggested that this product failed so much that it brought the company to bankruptcy.
After three years, in 1937, Walt produced and released the 83-minute-long Snow White and the Seven Dwarfs. The success of this cartoon was so historical that it became the highest-grossing film of that time. "Disney's Folly" made $8 million in profit (equivalent to $100 million today), and Walt could finally pay off his debts. Snow White's first animation income was so high that a new office building was built in Burbank, California, with a floor area of 210,000 square meters. It is still Walt Disney's headquarters.
The Second World War and the Repetition of Disney's Story
Finally, he could buy a new studio and a house for his parents. But again, bad luck followed him, and he lost his mother due to a gas attack at home. An event that Walt blamed himself for it. Along with this, the Second World War started, which dealt a big blow to businesses. 
However, Walt did not stop trying to save the company. He produced new cartoons like Pinocchio. Despite its popularity today, the cartoon flopped at the time of release and pushed Walt to the brink of bankruptcy. In addition to a significant drop in box office sales, several animators at Walt Disney were called up to join the army and fight in battles.
During World War II, Walt Disney devoted over 94% of his facilities to government affairs. Things as making promotional and educational videos for the armed forces.
Disney's Death and Disneyland's Birth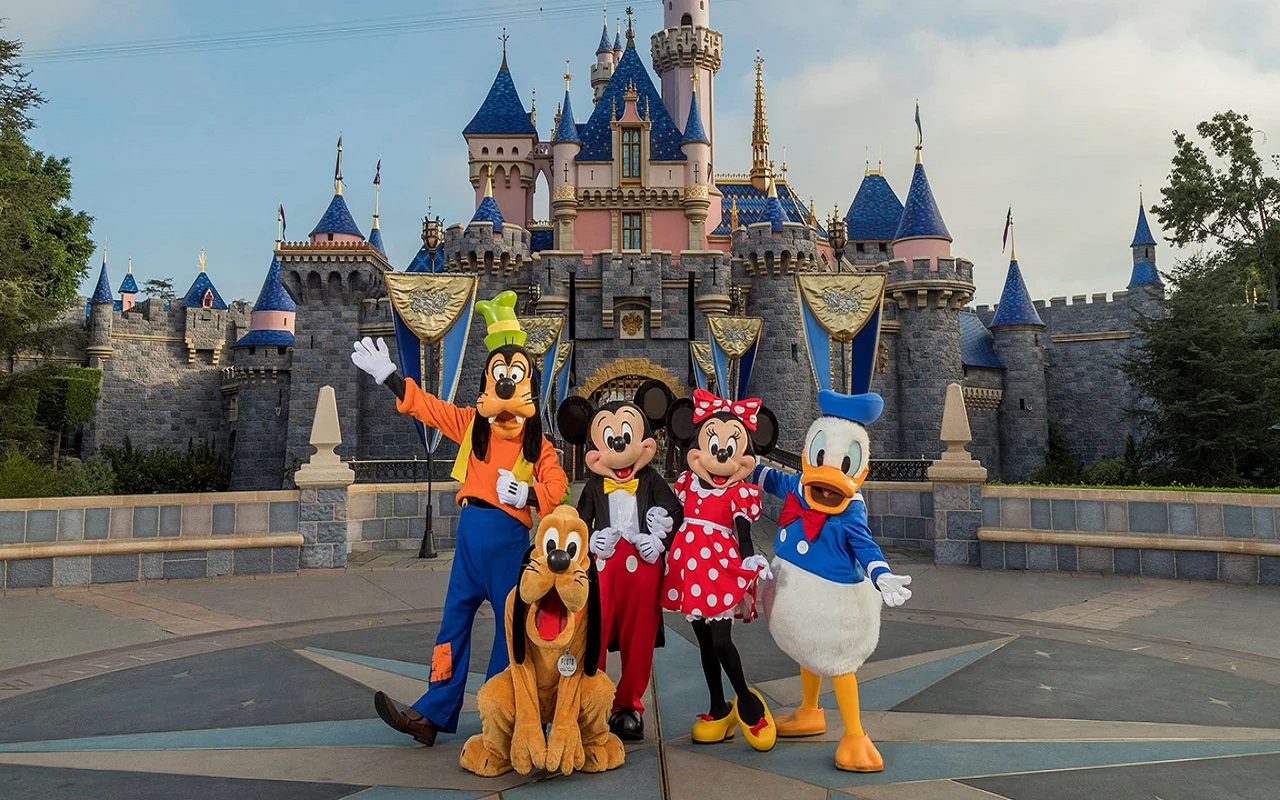 In the early 1950s, the Walt Disney Company released its first fully live-action films on the silver screen, such as Treasure Island, The Story of Robin Hood, and His Merrie Men. Meanwhile, Walt Disney Productions ended its partnership with RKO Pictures in 1953 and established its studio to release films. At that time, this studio's name was Buena Vista Distribution, now known as Walt Disney Motion Pictures.
Things were not going well at Disney, and Walt was forced to take the company public. An event that was associated with apparent success and poured a lot of money into the company, But it was still not enough. Walt had to lay off some of his company's employees and reduce the salaries of the remaining employees. Actions that led to employee strikes. But Walt went on and looked to build something new as usual.
He wanted to create a new attraction in Hollywood: an amusement park! He decided to make an amusement park that would be a place for children and adults to spend time. But he was facing the problem of lack of funds, and Disney's board of directors was against him because of the contradiction of building an amusement park with Disney's business. Walt explained that Disney's goal is to entertain people, and the amusement park has that goal. He believed that he could guarantee its success by building a unique place. He finally managed to get the board of directors' approval, But there was still the problem of a lack of cash on hand.
Walt used strange solutions to solve this problem. In the first step, he borrowed $10,000 from his brother. In the second step, he borrowed from his life insurance. That is the money that was supposed to support his family after his death. Finally, in the third step, he produced a television series called "Disneyland" to make money using it. In the end, he launched Disneyland in 1955 by attracting some sponsors. 
It is interesting to know that the first working day of Disneyland faced a heavy failure and had a disappointing start. Still, Walt fixed it up again and made it the happiest place on earth. As a result, Walt finally achieved financial stability, and today, his brand has the highest stock value among entertainment companies world. Walt Disney died of lung cancer on December 15, 1966.
New Managers and Endless Challenges to Success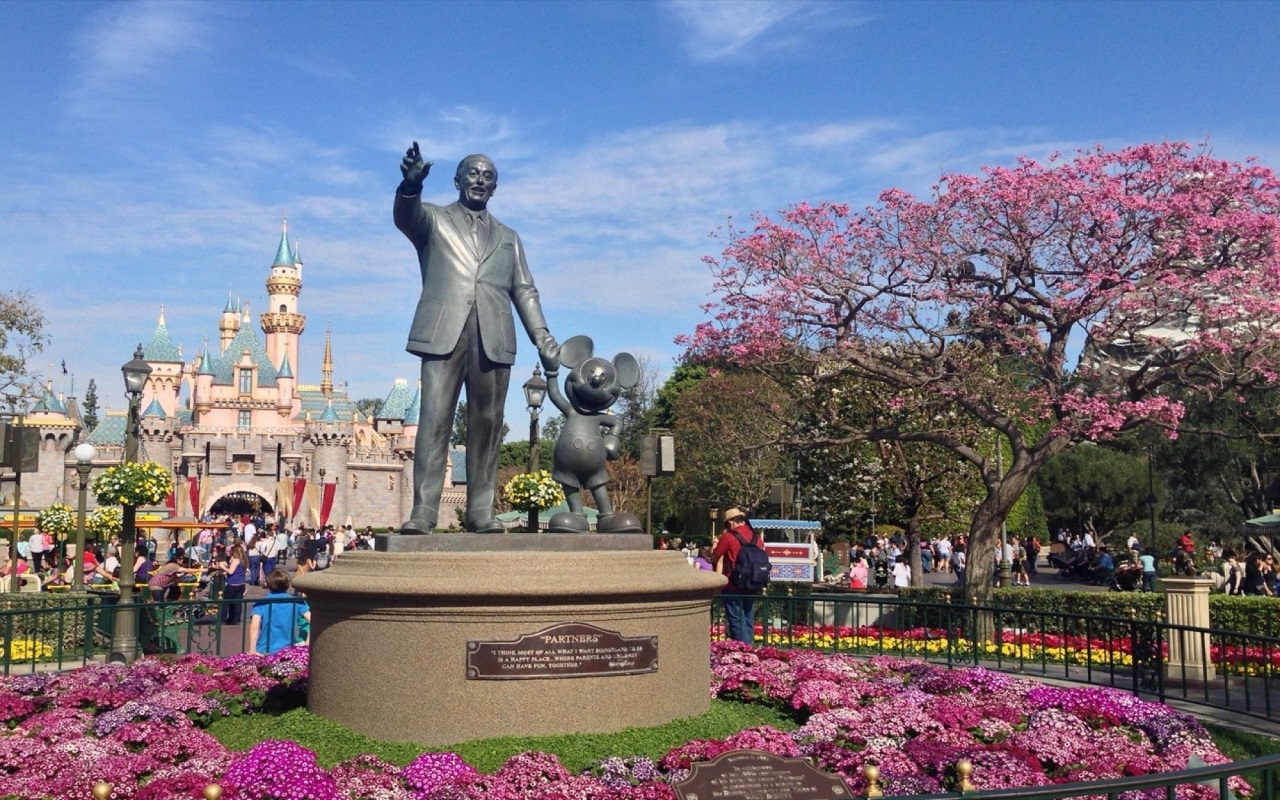 After the death of Walt Disney, "Roy O. Disney" took over the management of all company departments. One of his first actions was to change the name of Disney World to Walt Disney World in honour of his late brother. During Roy's administration, nothing special happened. Animations and live-action movies such as The Jungle Book and The Computer Wore Tennis Shoes went on the silver screen. 
Roy died of a stroke, and the company management was entrusted to Donn Tatum, Card Walker, and Ronald William (adopted son of Walt Disney). As expected, various production and release processes continued. Still, the live-action works were less successful than the old ones. This was while animated films such as Robin Hood and The Fox and the Hound had achieved good sales.
Aware of the lack of success of live-action films, Miller tried to take the company in a new direction and target a new audience. The result of adopting such a policy was the production of various films, including The Black Hole. This work tried to attract Star Wars fans but failed. The Walt Disney Company also tried its luck in the horror and science fiction genres by making The Watcher in the Woods and Tron. Tron managed to achieve success at the box office. 
Still determined to improve, Miller entered into a motion picture partnership with Paramount Pictures in 1979, Walt Disney's first collaboration with a non-domestic studio. One of the results of this collaboration is the live-action adaptation of Popeye starring Robin Williams, which received positive feedback and experienced good sales.
Most of Walt Disney Productions' focus in the 1970s and 1980s was on theme parks. In the same period, they started the construction of the third park under the name of Epcot and the first park outside the United States of America. Despite the success of the new parks and the Disney network, Walt Disney Productions was financially vulnerable. Despite its high potential, its film department was unsuccessful and could not compete with other companies of that time.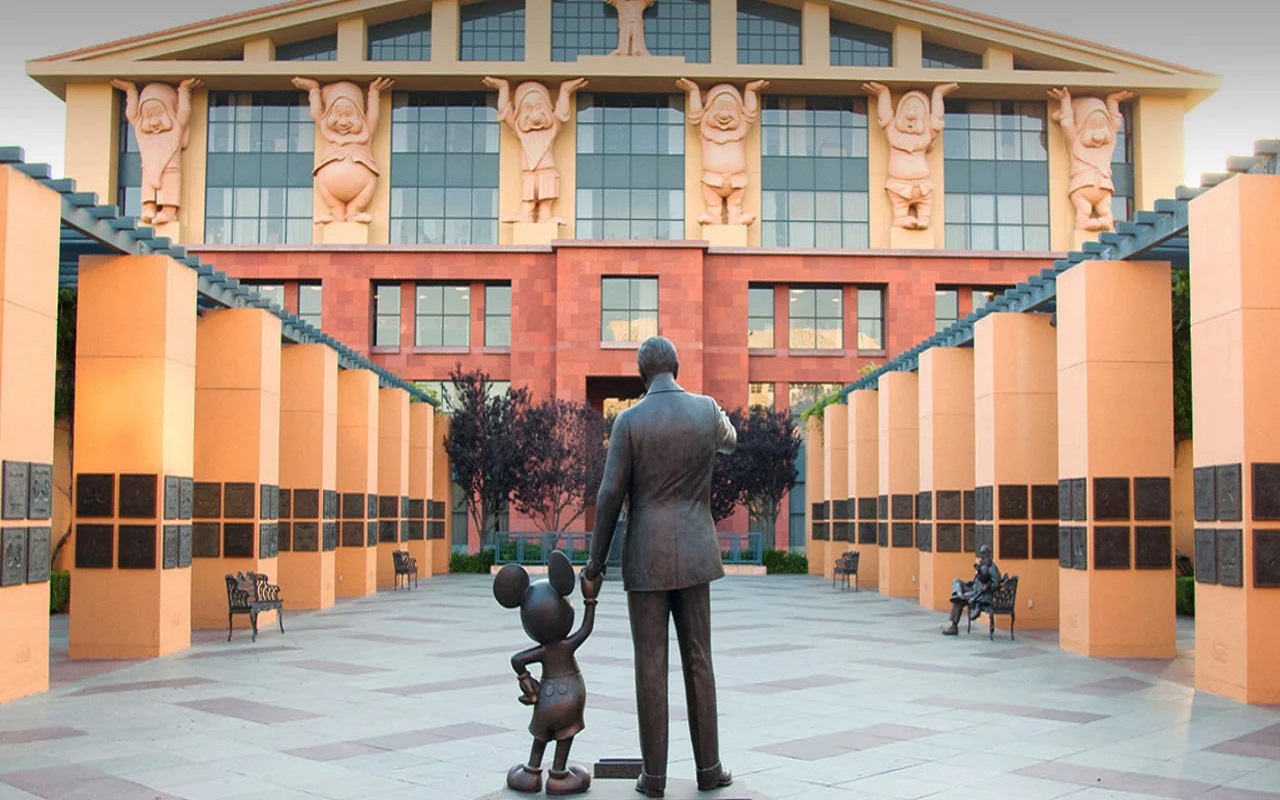 After the Sid Bass family bought 18.7% of the Walt Disney Company, he appointed Michael Eisner as CEO and Frank Wells as chairman. Eisner, who previously worked at Paramount Pictures, managed to bring the movie and TV series back somewhat into the limelight. As examples of works he made, we can point out Dead Poets Society and Pretty Woman, both released in cinemas in 1989 and 1990 and sold nearly one billion dollars in total, despite spending 30 million dollars on production. The conditions for the series were the same. In addition, this department produced successful works in cooperation with other networks, such as The Golden Girls.
While the Walt Disney Animation Studio was experiencing its heyday, the Disney Renaissance was underway. At this time, successful works such as The Little Mermaid, Beauty and the Beast, Aladdin, and The Lion King went on the silver screen. The company also succeeded in serial animation by making products such as Adventures of the Gummi Bears and DuckTales.
Among other events that occurred between 1984 and 2005, one can mention the purchase of Capital Cities/ABC Inc., which imposed a cost of 19 billion dollars on Walt Disney executives. By doing so, ABC and its assets, including A&E Television Networks, ESPN, and DIC Productions, came under Disney's control. Michael Eisner considered the acquisition of Capital Cities/ABC Inc. a necessary step for the company's survival. 
He also bought Fox Family Worldwide five years later. Although Eisner's management policies were effective from the point of view of some experts, the significant decrease in income at the beginning of the first decade of the 21st century created chaotic conditions for him.
Finally, Michael Eisner was accused of mismanagement by the management team of the Walt Disney Company and lost his position as the CEO of the company and the head of the animation studio.
Bob Iger and Company Expansion
Bob Iger was elected as the new CEO of the Walt Disney Company in October 2005. The purchase of Pixar studio for 7.4 billion is considered one of his first vital actions. Four years later, he bought Marvel Entertainment for $4.24 billion, making Walt Disney one of the principal decision-makers surrounding the MCU. As the success of Pixar and Marvel continued after the merger with Walt Disney, Iger emphasized in one of his interviews that the company would continue to buy new properties. Only a short time after these statements, Lucasfilm joined the company's studios. Iger paid 4 billion and 50 million dollars to buy Lucasfilm.
New management and the Coronavirus Pandemic
Bob Chapek became CEO after Bob Iger's contract ended. He has been the head of Walt Disney Parks for the past years. Since the coronavirus coincided with the initial months of Chepek's management, Iger, apart from being a consultant, also took over the control of executive tasks to help Chepek overcome the crisis. Since implementing the home quarantine plan significantly reduced the company's revenue, they had to stop paying their 100,000 employees at Disney Parks, Experiences, and Products.
Among other effects of the Covid 19 on Walt Disney, we can mention the 63% decrease in income in the second quarter of 2020. Most of this figure was related to parks, and entertainment complexes closed due to the spread of Covid-19.
Subsidiaries of Walt Disney
 The Walt Disney Company
Disney Magic cruise ship
Marvel Studios
Walt Disney Pictures
20th Century Studios
Searchlight Pictures
Blue Sky Studios
Lucasfilm
Disney Music Group
Disney Theatrical Group
This well-organized human relationship structure allows Walt Disney to become one of the world's largest media corporations. Children and those who are young at heart are the target audience for this business. The company uses a well-defined communication strategy. It involves interacting with the public through radio, television, newsletters, publications, and the internet. 
The use of social media platforms generates traffic and revenue for businesses. Leadership in this corporation is based on effective communication and upholding Walt Disney's management standards. To source their human capital efficiently and effectively, this company spends a lot of time and energy, and it is a big part of Disney facts that: why is Disney so successful.