Mastering 3D modeling can be a daunting task. Due to the number of 3D modeling software available, it can be challenging to decide which is the best for your needs. Some of the advanced software surely will leave beginners at a loss. Additionally, the most popular tools will suddenly have you face an intimidating number of tools and unfamiliar control schemes that could discourage you from admitting defeat.
The good news is that much software is now freely available and even specifically appropriated for users, starting with 3D modeling. UIs are more approachable, and you can find tutorials with different approaches for each step of learning the software. With time and practice, even the most advanced modeling software can be attainable with the proper introduction.
This article introduces the best 3D modeling software, both paid and free, for various specific needs. The best features of each software are highlighted, so you can choose which fits your approach and style.
Let's dive in!
The Best Paid 3D Modeling Software
Since its creation, Maya has been an industry standard 3D design software for high-quality VFX, 3D animation, and motion graphics. If you ask professional 3D modelers which software they use most, their answer most likely would be Autodesk Maya.
However, this powerful app isn't for beginners, and it takes time to master its complicated tools. Its features include tools for particles, hair, solid body physics, cloth, fluid simulations, and character animation. It has been used in a vast number of Hollywood movies and AAA video games, and more.
Because of Maya's robust and diverse toolset, it may be pretty overwhelming for new users. So since this comprehensive tool is expensive, if its extensive features are more than what you need, it is better to look for other software ($215 per month, $4590 per year). But since it is an incredibly powerful toolset, that is worth the price if you devote the time and master this platform.
Pros

Amazing features for 3D modeling, rendering, animation 

Industry-standard for character design

Comprehensive toolset

Uses the NURBS modeling technique

Cons       

Expensive

Has a significant learning curve

Takes up a substantial amount of memory

Needs a powerful Operating System

O/S

    Windows, Linux, macOS
ZBrush is regarded as the best 3D sculpting software in the market. It is a self-sufficient sculpting and modeling tool, creating organic forms from real human beings to fantasy creatures. It's worth noting that its hard-surface potential has also improved with the latest updates. This software uses a brush system, like sculpting with clay but digitally.
Because of this approach, experienced artists can easily craft entire figures, clothing, and assets ready for rendering. ZBrush's services are not only limited to sculpting and modeling; they can also be used in creating textures and UV Maps. 
ZBrush is also a standard 3D modeling software used in VFX on movies, television, and video game design industry, and also a popular choice for modeling 3D print toys and action figures, with tools specifically aimed at 3D printing.
Its price is affordable, but due to its non-standard workflow and UI, mastering it takes a lot of practice for newcomers. In other words, beginners need a lot of practice to become proficient in using the versatile features of this tool.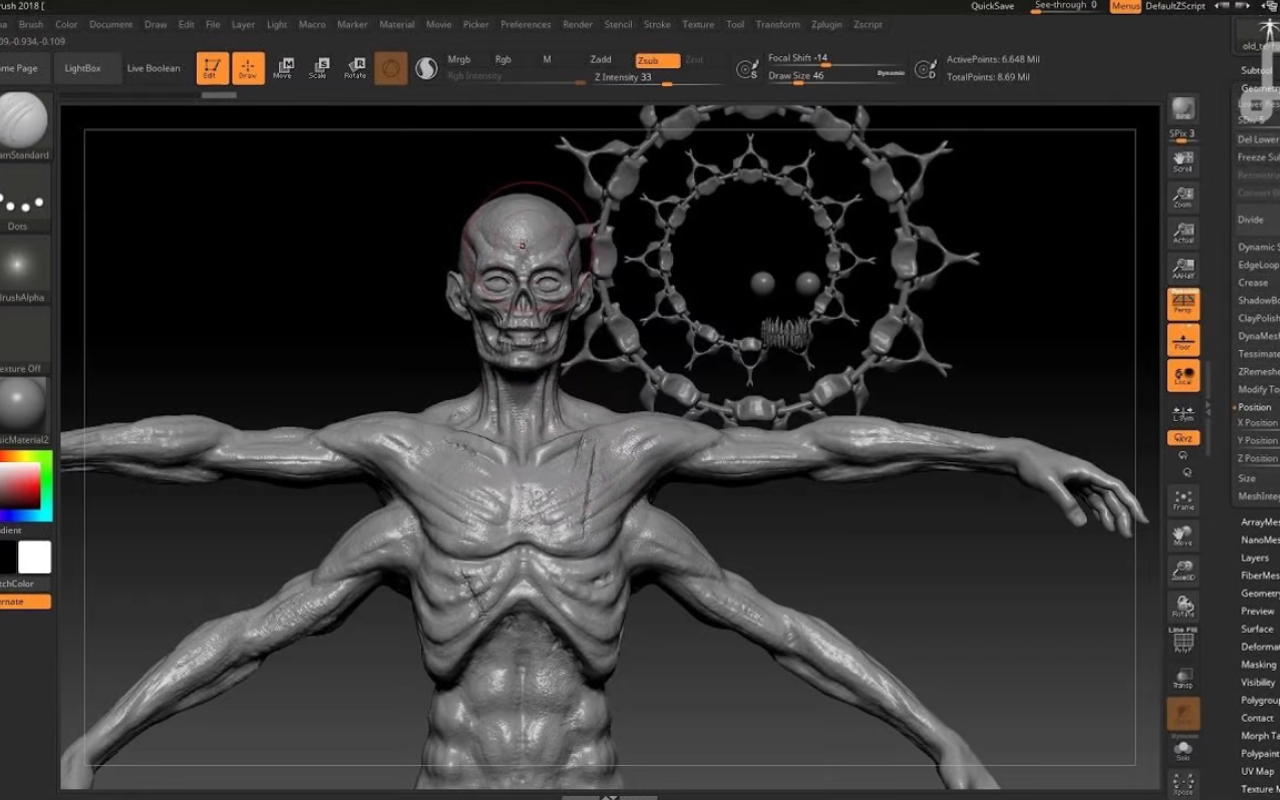 Pros

 1. Incredible sculpting toolset

2. Great for 3D printing and modeling
3. Prominent for hyper-realistic modeling

Cons
1. Difficult to learn
2. Non-standard menus and UI
can be hard on your system at times
O/S
Windows Vista and above
macOS: 10.10 and above
3Ds Max has been around since the early 90s. It is powerful software, great for game development and modeling. It's best known for its intuitive modeling workflow, with a toolset similar to Maya's. It's widely used for visual effects in blockbuster movies, architecture, and game development.
Its User Interface needs improvement, but in comparison to Maya, 3DS MAX is much easier to handle for beginners. However, 3D MAX is only available on Windows and has no available versions for Macs or Linux PCs. Since they are similar, you might find Autodesk Maya a better alternative if you have Mac or Linux system. It's as expensive as Maya (around $1700 yearly or $215 monthly 0.
Autodesk 3DS MAX is a robust program for game development and 3D modeling if you can afford its high price and use windows. Another issue to consider is that it has considerably less educational content than the educational libraries of other software and smaller communities among digital modeling software.
Pros           

1. Amazing performance, modeling, and rendering features
2. Light and fast 3D tool
3. Easier to learn when compared to many of the 3D modeling software 

Cons

1. Windows only 
2. Does not function on lower specification systems

O/S
Microsoft Windows 7 (SP1) and above
One of the most popular 3D modeling software, Houdini, is used for modeling, special effects, and 3D animation services. It has a versatile range of features and covers all significant areas necessary in 3D production.
The most noteworthy feature of this software is its node-based procedural approach. This feature is used for a lot of procedural modeling. Simply put, this feature enables you to use the nodes to generate geometry procedurally. As a result, you can create some complex models with relatively little effort. This gives the user unmatched power, flexibility, and control.
Of course, getting the hang of working with this feature isn't an easy task. However, it's worth mentioning that Houdini has more traditional tools that enable you to interact directly with the polygons on the screen. 
Like Maya, Houdini's non-standard workflow can be challenging to get the hang of. SideFX offers a free version of Houdini FX, which students, artists, and hobbyists can use on personal projects. This version gives you access to virtually all of the features from the award-winning Houdini FX, meaning you can develop your skills. There's the full-featured Houdini Indie too, which provides commercial options for smaller studios.
SideFX also offers an 'Apprentice' version for free. Houdini Apprentice allows you to access all of the features of the full version to develop your skills and work on non-commercial use and learning purposes.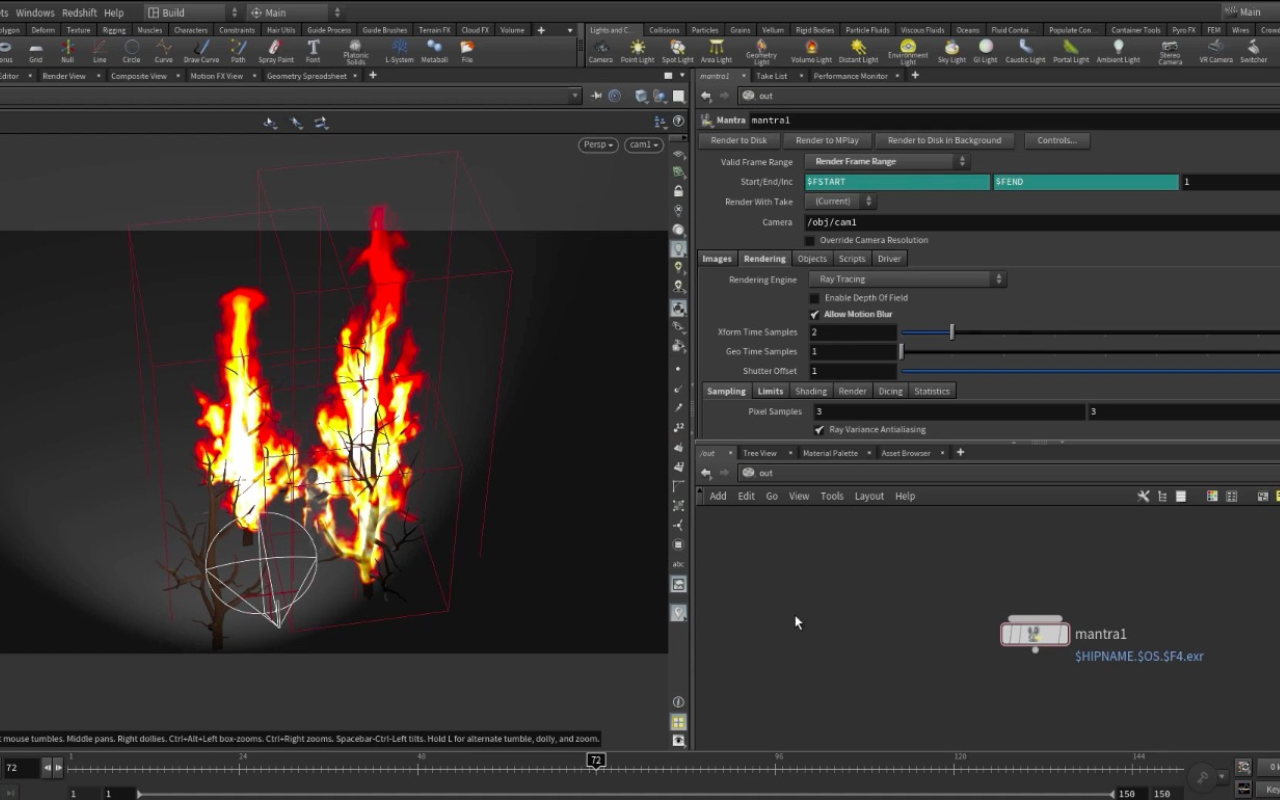 Cinema 4D is a 3D graphics software like Autodesk's Maya and 3DS MAX with various uses ranging from modeling, texturing, lighting, animation, rendering, and special effects. While capable of creating advanced models and animation, Cinema 4D's most significant advantage is that it is easy to understand. There are also plenty of tutorials available for this software to master.
Creating large, detailed scenes with lots of assets from scratch can be an overwhelming task only possible with a large team. Cinema 4D has photogrammetry software called "Moves," which would help you fill a scene with small objects that add to the details of that scene.
Cinema 4D is most known for its simulation power. It has some of the best solutions to create simulations like particle effects and practical tools like Dynamic Placement, which enables physics on the fly while placing objects in a scene so they can fall into a natural, believable position.
In addition, Cinema 4D has a Polygon Reduction tool that enables users to bring the number of polygons down to meet their needs. This simple polygon reduction makes it easy to use past designs as original background assets without slowing down your workflow with more polygons than necessary.
Pros                   

1. Amazing 3D modeling and rendering capability 
2. Industry standard for creating visual effects in Hollywood movies
3. Having a free learning version which includes a wide variety of different particle effects (such as fire and smoke)
4. Ann extensive node system that makes it easy to manipulate the particle effects intuitively

Cons

1. Confusing UI
2. High price
3. Steep learning curve

O/S
Windows 8 SP1 and above
macOS 10.13 and above
Linux Ubuntu 16.04+
Linux Debian 9.0+; Linux CentOS 7+
Linux Open SUSE 15.0+; Linux mint 17.3+
Linux Fedora 25+
Modo is a 3D modeling program created by Foundry. It has an incredibly diverse toolset, allowing the user to work straight through the modeling phase to the animation. Modo is one of the best software for creating polygonal forms in 3D renders.
This software uses direct tools and procedural techniques to create realistic textures and forms. This software has impressive functionality and features with a solid in-breed MeshFusion Boolean system. Modo's strength, compared to the previous software in modeling, does not have the power and versatility of other programs in other aspects.
If your focus is to excel in 3D modeling, then Modo is one of your best programs. But if you wish to do a wider variety of work, it's better to pick some other programs on this list. Modo is also very user-friendly and easier to master for beginners.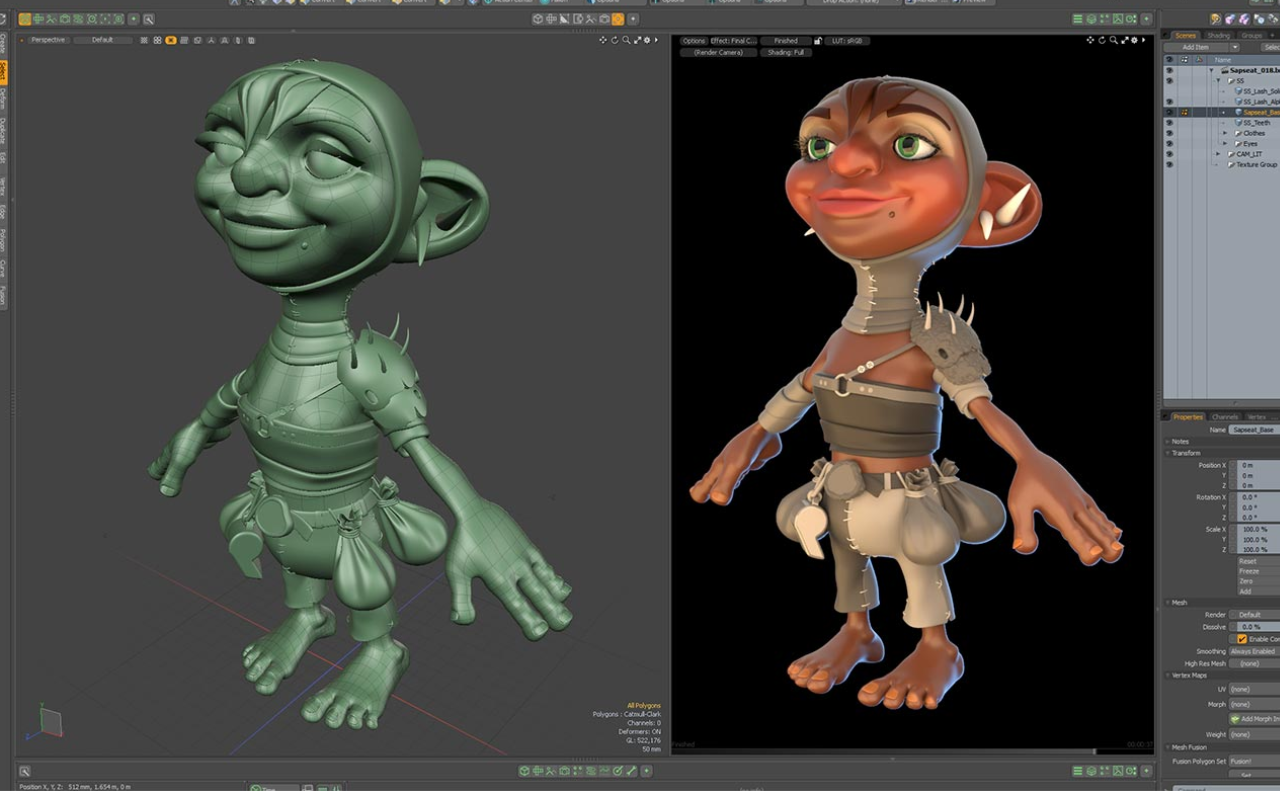 Pros          

1. Solid rendering system
2. Outstanding for creating realistic designs and forms
3. Has great customizability
4. User-friendly design

Cons

1. Some tools feel underdeveloped
2. Somehow expensive

O/S
Mac, Windows, Linux
7. Adobe Substance Designer
Adobe's Substance 3D Designer is a node-based graphing tool enabling users to create 3D models and textures from scratch. It is one of the most versatile and detail-oriented platforms for designers. This software has four applications, namely, 3D Painter, 3D Designer, 3D Sampler, and 3D Stager.
These applications each have nuanced features. With this versatile and detail-oriented tool, you can create 3D objects from scratch, import them, add color, texture, and lighting, and set them with backgrounds and environments. One of the best features of this program is that you can create textures for your model from real-life images and textures.
This 3D modeling software generates stunning textures for your models, turning your creations into intricate pieces. It also saves a lot of time to make minuscule adjustments to create realistic skin and texture.
Moreover, Substance Designer's node-based workflow gives a clear and visible overview of the model and, as a result, makes adjustments much more effortless. Substance 3D Designer's price is very reasonable (with Substance 3D Designer, 3D Painter, and 3D Sampler and a $49.99 variant with all four applications).
Pros         

1. Professional standard tools with a reasonable price
2. Comes with a wide range of pre-made 3D objects 

Cons

1. Has a learning curve for beginners
2. Not excellent in rigging and animation  

O/S
Windows, Mac
Do You Need a 3D Animation?
Looking to outperform your competitors with engaging, quick, and high-quality 3D animations? Well, look no further because that's our specialty! Contact us to help you benefit your business with stunning 3D animation services.
Do You Need a 3D Animation?
Looking to outperform your competitors with engaging, quick, and high-quality 3D animations? Well, look no further because that's our specialty! Contact us to help you benefit your business with stunning 3D animation services.
The best free 3D modeling software
If you're looking for free 3D modeling software, without a doubt, it's Blender. This free modeling, texturing, animation, and rendering app has been around since 2002 and has been improved many times. It is powered to create impressive 3D modeling and sculpting models, considered an adequate substitute for paid modeling programs.
This software provides all the tools you need in modeling software, such as rigging, texturing, sculpting, UVing, and animation. It also runs on every primary operating system.
Plus, it's an open-source program supported by a community of developers and users. This means that there are constant improvements and available add-ons for new functionality that are not only common but always free of charge. As a result, it's evolved and improved to the extent that many prominent companies use it to create CGI for big-budget movies.
Blender is an excellent starting point for those who want to see if 3D modeling is their career path.
Pros         

1. Simply the best 3D FREE software package
2. Ease of use
3. Has an impressive collection of add-ons available

Cons

User Interface needs to get used to it

O/S
Windows, Mac, Linux
This free software, while not for creating models from scratch, is excellent for customizing pre-existing built-in 3D models and adding components. Although not as flexible as several of the more popular 3D software, you can render realistic 3D models with free-to-use software with Daz.
Previously priced at $249, 3D software Daz 3D is available to download free of charge.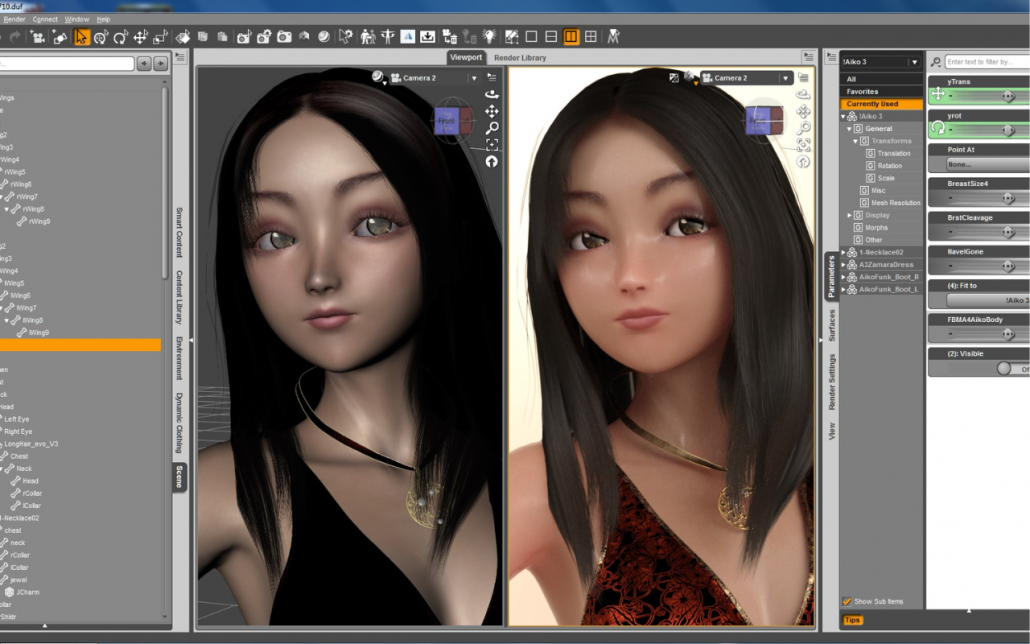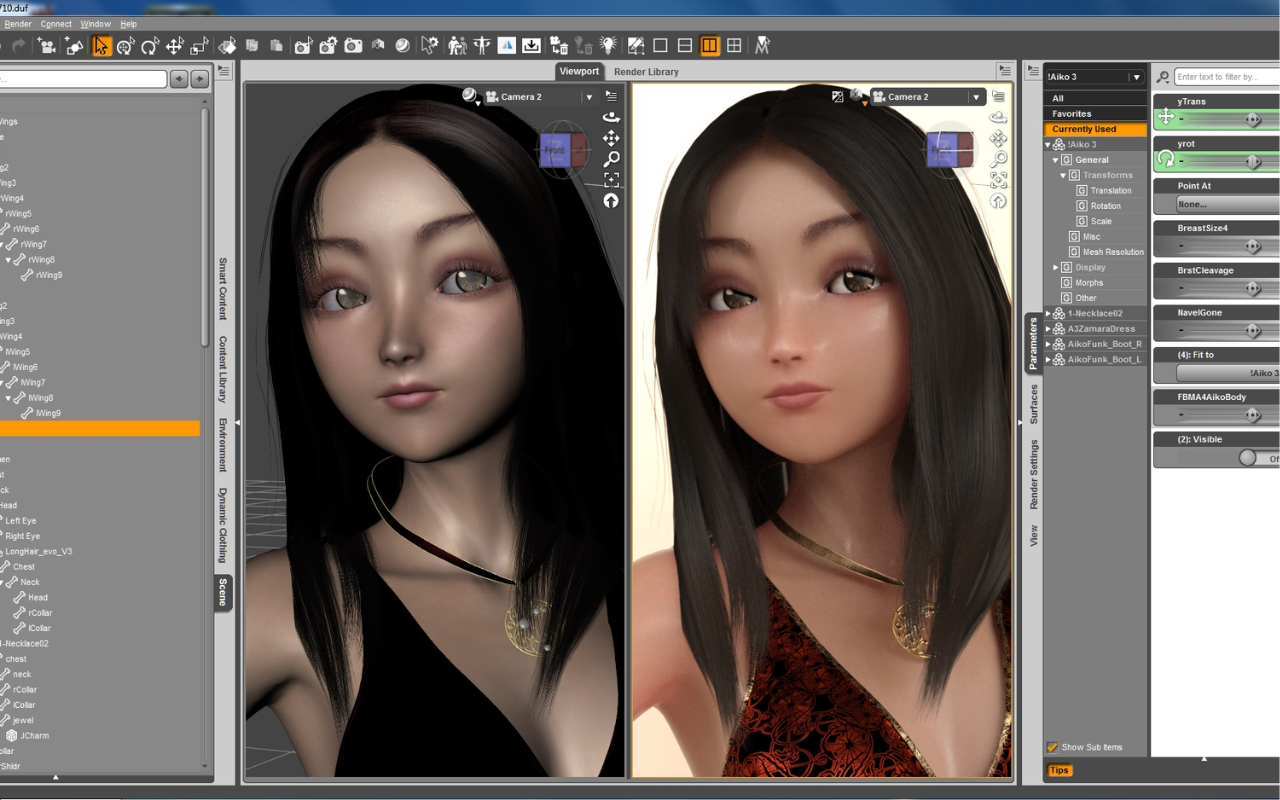 Pros

Outstanding for morphing and customizing 3D models
User friendly

Cons

1. Not helpful in creating 3D models from scratch
2. Does not have the online community or customer support like other programs

O/S           
Windows, Mac
SketchUp is another popular choice among modeling programs that offers industry standards works in computer graphics, 3D modeling, 3D printing, etc. This 3D modeling software is available in free and paid forms and comes in three variations.
The basic version of SketchUp is free; however, if you require potent tools for your rendering software, you can choose SketchUp Pro or SketchUp Makeup. Its core 3D modeler runs right in your web browser and offers 10GB of storage. Additionally, there are user-generated 3D models available for free to import into your projects.
Pros        

1. Simple, intuitive user interface
2. 3D models are available for free to import into your projects

Cons

Customer support is not the best

O/S
Windows, Mac, IOS, Web
Hexagon is a free 3D Modeling Software from Daz 3D. So if you already have a Daz 3D Studio account, downloading Hexagon is a good idea. Hexagon is a simple subdivision surface modeler. While Daz promotes it as a way of building clothes and props for its figure, you can use Hexagon to make anything you like.
Pros

1. Simple to use
2. The closest thing to a 3D version of Adobe Illustrator

Cons

1. Needs improvement and update
2. The user interface can be improved

O/S          
Windows, macOS
There is not one 3D modeling software that can fit all your needs. Each one has its advantages and perks. Software developers constantly strive to optimize their products to match the ever-changing 3D designers and modelers market. However, If you're looking to get started in this fun and lucrative art form, now is the right time to do it.
The gaming industry is booming, and VFX is used in everything. Companies are looking for designers that can keep up with the ever-changing scene of 3D modeling software. So it wouldn't hurt to get familiar with the right software and expand your portfolio by creating stunning new pieces of work.